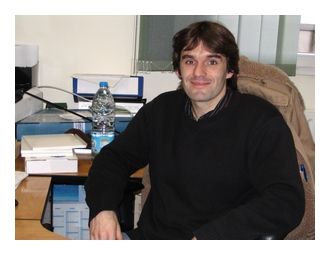 Cyril Rousseau was born in Orléans (France) in 1973. He received his Ph.D. degree from the

University of Orléans in 2002

under the supervision of

Professor O. Martin

at the «

Institut de Chimie Organique et Analytique (I.C.O.A.)»

. His work has focused on developing new methods of synthesis of Aryl C-glycosides by intramolecular path. He then spent

two years in Denmark

in the team of

professor M. Bols in the university of Aarhus

where he started a new topic on the use of modified cyclodextrins as artificial enzymes. He then worked in the

university of Kaunas

(

Lithuania

) as responsible for research where his work focused on the enhancement of glycerol. After

4 months

in the team of

Professor D. Gryko

in

Warsaw

as a postdoc position funded by a grant Marie Curie, he returned in

2006

in the team of

Professor M. Bols

at the

University of Copenhagen

(

Denmark

). In

2008

, he became

«Maître de Conférences at the University of Artois»

and joined UCCS. His current work deals with catalysis and biomass.
---

orcid.org/0000-0001-6133-6868
---
Publications 2023:
«Efficient removal of fluoride ions present in industrial effluents using metal-organic frameworks of UiO-66-NH2»
D. Lacalamita, G. Hoyez, C. Mongioví, A. Ponchel, N. Morin-Crini, C. Rousseau, C. Loup, J. Rousseau, M. Raschetti, E. Monflier, V. Placet, G. Crini


J. Water Process. Eng., 2023, 53, 103791

- doi: 10.1016/j.jwpe.2023.103791

Publications 2022:
«Cyclodextrins Initiated Ring-Opening Polymerization of Lactide Using 4-Dimethylaminopyridine (DMAP) as Catalyst: Study of DMAP/β-CD Inclusion Complex and Access to New Structures.»
J. Meimoun, Y. Phuphuak, R. Miyamachi, Y.Miao, M. Bria, C. Rousseau, G. Nogueira, A. Valente, A. Favrelle-Huret, P. Zinck
Molecules 2022, 27, 1083 - doi: 10.3390/molecules27031083


«Aqueous zirconium-MOF syntheses assisted by α-cyclodextrin: towards deeper understanding of the beneficial role of cyclodextrin»
G. Hoyez, C. Rousseau, J. Rousseau, S. Saitzek, A. Ponchel, E. Monflier
Eur. J. Inorg. Chem. 22, e202100896 - doi: 10.1002/ejic.202100896


Publications 2021:
«Cyclodextrins: a New and Effective Class of Co-Modulators for Aqueous Zirconium-MOF Syntheses»
G. Hoyez, J. Rousseau, C. Rousseau, S. Saitzek, J. King, P. Ágota Szilágyi, C. Volkringer, T. Loiseau, F. Hapiot, E. Monflier, A. Ponchel
CrystEngComm. 2021, 23, 2764 - 2772 - doi: 10.1039/D1CE00128K


Publications 2019:
«Highly Water-Soluble Amphiphilic Cyclodextrins bearing Branched and Cyclic Oleic Grafts»
A. Cocq, C. Rousseau, H. Bricout, E. Oliva, V. Bonnet, F. Djedaini-Pilard, E. Monflier, S. Tilloy
Eur. J. Org. Chem. 2019, 4863-4868 - doi : 10.1002/ejoc.201900789


«Synthesis of 2-Hydroxydodecyl Starch Ethers: Importance of the Purification Process»
A. Gilet, C. Quettier, V. Wiatz, H. Bricout, M. Ferreira, C. Rousseau, E. Monflier, and S. Tilloy
Ind. Eng. Chem. Res. 2019, 58, 7, 2437-2444 - doi: 10.1021/acs.iecr.8b02605


«Oleic Acid Based Cyclodextrins for the Development of New Hydrosoluble Amphiphilic Compounds»
A. Cocq, C. Rousseau, H. Bricout, E. Oliva, V. Bonnet, F. Djedaini-Pilard, E. Monflier, S. Tilloy
Eur. J. Org. Chem. 2019 , 1236–1241 - doi: 10.1002/ejoc.201801609


Publications 2018:
«An ambient-temperature aqueous synthesis of zirconium-based metal-organic frameworks»
I. Pakamorė, J. Rousseau, C. Rousseau, E. Monflier, P. Ágota Szilágyi
Green Chem. 2018, 20, 5292-5298 - doi: 10.1039/c8gc02312c

«Unconventional media and technologies for starch etherification and esterification»
A. Gilet, C. Quettier, V. Wiatz, H. Bricout, M. Ferreira, C. Rousseau, E. Monflier and S. Tilloy
Green Chem., 2018, 20, 1152–1168 - doi: 10.1039/C7GC03135A

Publications 2016:
«Ring Opening Polymerization of ε-Caprolactone in the Presence of wet β-Cyclodextrin: Effect of the Operative Pressure and of Water Molecules in the β-Cyclodextrin Cavity»
A. Galia, O. Scialdone, T. Spanò, M. Grazia Valenti, B. Grignard, P. Lecomte, E. Monflier, S. Tilloy and C. Rousseau
RSC Adv., 2016, 6, 90290-90299 - doi: 10.1039/C6RA20211J


«Greener Paal-Knorr pyrrole synthesis by mechanical activation»
L. Akelis, J. Rousseau, R. Juskenas, J. Dodonova, C. Rousseau, S. Menuel, D. Prevost, S. Tumkevičius, E. Monflier, F. Hapiot
Eur. J. Org. Chem. 2016, 31-35 - doi: 10.1002/ejoc.201501223


Publications 2014:
«Access to Pyrrole in Water by Methylated Cyclodextrins Assistance»
S. Menuel, J. Rousseau, C. Rousseau, E. Vaičiūnaite, J. Dodonova, S.Tumkevičius, E. Monflier
Eur. J. Org. Chem., 2014 -4356-4361 - doi: 10.1002/ejoc.201402327

Selected publications: