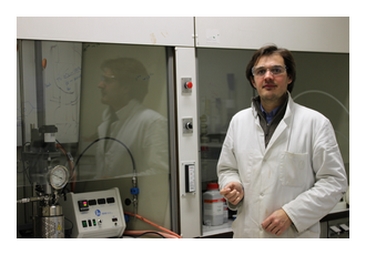 Sébastien Noël

was born in Mulhouse (France) in 1980.
He graduated from the

« Ecole Européenne de Chimie, Polymères et Matériaux de Strasbourg »

(ECPM) in

2004

. He received his

Ph. D. degree in 2007

from the

University of Lyon 1

under the supervision of

Dr. C. Pinel

and

Dr. L. Djakovitch

at the

« Institut de recherches sur la catalyse et l'environnement de Lyon »

.
His work focused on the synthesis of optically active bifunctionnal ligands for asymmetric hydrogenation via catalytic arylation of acrolein derivatives. In

2007-2008

, under the direction of

Dr. M. Besson

(IRCELYON), he studied glycerol hydrogenolysis using supported heterogeneous catalysts. In

2008-2009

, as a postdoctoral fellow, he worked with

Professor E. Heeres

and

Professor J. de Vries

at the

University of Groningen

(Netherlands), developing a caprolactam synthesis from a biorenewable resource. He then worked with

Dr. I. Bonnamour

,

Dr. M. Taoufik

and

Dr. U. Darbost

on the preparation and immobilization of Calixarene-based copper catalysts at the

University of Lyon 1

.

He joined Professor Monflier's team in 2010

as a non-permanent teacher and researcher, working on the preparation of aqueous metallic nanoparticles for the hydrogenation of furan-derived compounds. He became

« Maître de Conférences » at the University of Artois in december 2011

. His work deals with the preparation of hetero bimetallic catalysts for the valorization of biomass-derived compounds.
---

orcid.org/0000-0001-6074-8377
---
Publications 2022:
«Catalytic Hydrogenation of Derived Vegetable Oils Using Ion-Exchange Resin-Supported Ruthenium Nanoparticles: Scope and Limitations»
A. Madureira, S. Noël, B. Léger, A. Ponchel, and E. Monflier
ACS Sustainable Chem. Eng. 2022, 10, 50, 16588–1659
doi: 10.1021/acssuschemeng.2c04178

Publications 2021:
Publications 2020:
Publications 2019:
«Hydrogenation of hydrophobic substrates catalyzed by gold nanoparticles embedded in Tetronic/cyclodextrin-based hydrogels»
M. Chevry, S. Menuel, B. Lťger, S. NoŽl, E. Monflier, F. Hapiot
New. J. Chem. 2019, 43, 9865-9872 - doi: 10.1039/c8nj06081a


Publications 2017:
«Acid-tolerant cyclodextrin based ruthenium nanoparticles for the hydrogenation of unsaturated compounds in water»
S. Noël, D. Bourbiaux, N. Tabary, A. Ponchel, B. Martel, E. Monflier, B. Léger
Catal. Sci. Technol. 2017, 7, 5982-5992 - doi: 10.1039/C7CY01687E

Publications 2016:
«Mesoporous RuO2/TiO2 composites prepared by cyclodextrin-assisted colloidal self-assembly: Towards efficient catalysts for the hydrogenation of methyl oleate»
R. Bleta, S. NoŽl, A. Addad, A. Ponchel, E. Monflier
RSC Advances, 2016, 6, 14570-14579 - doi: 10.1039/C5RA27161D


Publications 2015:
«Ruthenium-containing β-cyclodextrin polymer globules for the catalytic hydrogenation of biomass-derived furanic compounds»
R. Herbois, S. Noël, B. Léger, S. Tilloy, S. Menuel, A. Addad, B. Martel, A. Ponchel, E. Monflier
Green Chem. 2015, 17, 2444 - 2454 - doi: 10.1039/C5GC00005J

Publications 2014:
«Cyclodextrin-based systems for the stabilization of metallic(0) nanoparticles and their versatile applications in catalysis»
S. Noël, B. Léger, A. Ponchel, K. Philippot, A. Denicourt-Nowicki, A. Roucoux, E. Monflier
Catal Today, 2014, 235, 20-32 - doi: 10.1016/j.cattod.2014.03.030


«Effective catalytic hydrogenation of Fatty Acids Methyl Esters by aqueous rhodium(0) nanoparticles stabilized by cyclodextrin-based polymers»
S. Noël, B. Léger, A. Ponchel, F. Hapiot, E. Monflier
Chem. Eng. Trans., 2014, 37, 337-342 - doi: 10.3303/CET1437057


Selected publications:
«About the Use of Rhodium Nanoparticles in Hydrogenation and Hydroformylation reactions»
M. Guerrero, N.T.T. Chau, S. NoŽl, A. Denicourt-Nowicki, F. Hapiot, A. Roucoux, E. Monflier, K. Philippot - Curr. Org. Chem. 2013, 17(4), 364 - 399 - doi: 10.2174/1385272811317040006

(Special issue of Current Organic Chemistry entitled «Nanoscale Catalysts as Tools for Synthesis», Guest Editor: Martin Prechtl)



«Ruthenium/1,1′-Bis(diphenylphosphino)ferrocene-Catalysed Oppenauer Oxidation of Alcohols and Lactonisation of α,ω-Diols using Methyl Isobutyl Ketone as Oxidant»
C. M. Nicklaus, P. H. Phua, T. Buntara, S. Noël, H. J. Heeres, J. G. de Vries
Adv. Synth. Catal. 2013, 14-15, 2839- 2844 - doi: 10.1002/adsc.201300438


«Carboxylated Polymer Functionalized by Cyclodextrins for the Stabilization of Highly Efficient Rhodium(0) Nanoparticles in Aqueous Phase Catalytic Hydrogenation»
S. Noël, B. Léger, R. Herbois, A. Ponchel, S. Tilloy, G. Wenz, E. Monflier
Dalton Trans. 2012, 41(43), 13359-13363 - doi:10.1039/C2DT31596C


«Cyclodextrins as growth controlling agents for enhancing the catalytic activity of PVP-stabilized Ru(0) nanoparticles»
R. Herbois, S. Noël, B. Léger, L. Bai, A. Roucoux, E. Monflier, A. Ponchel
Chem. Commun. 2012, 48, 3451-3453 - doi : 10.1039/C2CC17355G

«On the role of the atmosphere in the catalytic glycerol transformation over iridium-based catalysts»
F. Auneau, S. Noël, G. Aubert, M. Besson,.L. Djakovitch, C. Pinel
Catal. Commun. 2011, 16, 144


«Caprolactam from Renewable Resources: Catalytic Conversion of 5-Hydroxymethylfurfural into Caprolactone»
T. Buntara, S. Noël, P.H. Phua, I. Melián-Cabrera, J. de Vries, H.J. Heeres, H.J.
Angew. Chem. Int. Ed. 2011, 50, 7083


«Efficient heterogeneously palladium-catalysed Heck arylation of acrolein diethyl acetal. Selective synthesis of cinnamaldehydes or 3-aryl propionic esters»
S. Noël, C. Luo, C. Pinel, L. Djakovitch
Adv. Synth. Catal. 2007, 349, 1128