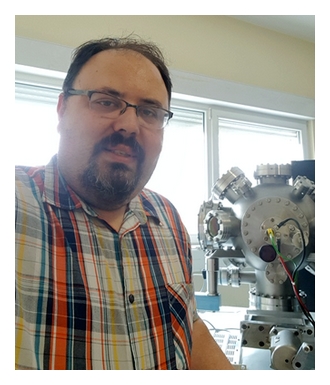 Sebastien Saitzek was born in August 9th, 1976 in Arras (Région Hauts-de-France / 62). In

march 2005

, he obtained his PhD degree in Materials Science at the Toulon University under the supervision of Prof. J. R. Gavarri and Prof. Ch. Leroux. His thesis was on the catalytic study of CeO2/CuOx nanocomposite and the development of CeO2/VO2 thermochromic bilayers for optical applications in the infrared range. In

september 2006

, he was recruited as

Associate Professor at Artois University

and joined the "Laboratoire de Physco-Chimie des Interfaces et Applications (LPCIA)". In

2008

, he integrates

the thin film and nanomaterials team (CMNM)

of Catalysis and Solid Chemistry Unit (UCCS UMR CNRS 8181). In

december 2011

, he received his

HDR

(Habilitation) at the Artois University under the supervision of Prof. R. Desfeux. Then, he was promoted

full professor in september 2018

. His research focuses on the elaboration of oxides (layered perovskite families) in nanomaterials and thin films forms by soft-chemistry and pulsed laser deposition. His research activities cover the field of optics, electronics and energy.
---

orcid.org/0000-0003-1403-5397
---
Keywords: Sol-Gel, Pulsed Laser Deposition, X-ray diffraction, ferroelectricity, piezoelectricity, luminescence, photoconductivity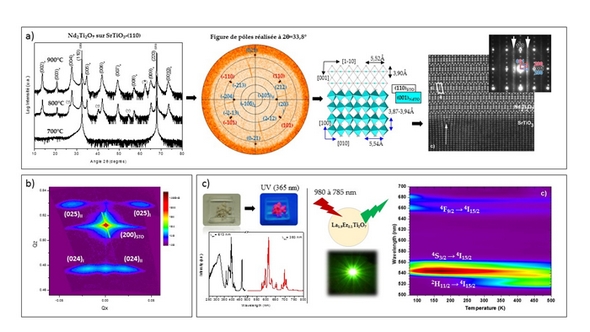 Example of some research works: a) XRD patterns of Nd2Ti2O7/(110)-SrTiO3 thin films, Pole figure and TEM image highlighting the epitaxy of the layer; b) Reciprocal Space Map of La2Ti2O7/(100)-SrTiO3 and c) On the left, the luminescence properties of La1.2Eu0.8Ti2O7 oxide and on the right, up-conversion luminescence properties of La1.9Er0.1Ti2O7 oxide / evolution of emission intensity as a function of temperature.
---
Ouvrages scientifiques :
S. Saitzek, Z. Shao, A. Bayart, P. Roussel, and R. Desfeux
«Microstructure and Nanoscale Piezoelectric/Ferroelectric Properties in Ln2Ti2O7 (Ln = Lanthanide) Thin Films with Layered Perovskite Structure»
Perovskites and Related Mixed Oxides: Concepts and Applications
Edition: 1st, Chapter: Chapter 11 - Publisher: Wiley-VCH
Editors: Granger, Pascal / Parvulescu, Vasile I. / Kaliaguine, Serge / Prellier, Wilfrid
ISBN: 978-3-527-33763-7 - Wiley-VCH, Weinheim
Publications 2023:
«New Pyrochlore-like Oxyfluorides Na2-2xSnxM2O5F2 (M = Nb5+ or Ta5+ and 1 ≤ x ≤ 0) as Potential Candidates for Overall Water Splitting Photocatalysis»
E. Boivin, S. Saitzek, F. Fauth, M. Huvé, P. Roussel, H. Kabbour
Chem. Mater., 2023, 35, 2, 447–456 - doi: 10.1021/acs.chemmater.2c02801

«Effect of Sr and Ti substitutions on optical and photocatalytic properties of Bi1-xSrxFe1-xTixO3nanomaterials»
M. Benyoussef, S. Saitzek, N. S. Rajput, M. El Marssi, M. Jouiad
NANOSCALE ADV, 2023, 5, 869-878 - doi: 10.1039/D2NA00755J

Publications 2022:
Publications 2021:
Publications 2020:
Publications 2019:
Optical properties of Ln2Ti2O7 (with Ln=La to Lu) thin films grown on (110)-SrTiO3 substrates by pulsed laser deposition
A. Bayart, J. F. Blach, M. Huvé, F. Blanchard, P. Roussel, R. Desfeux, S. Saitzek
Optical Materials 92 (2019) 303-310 - doi: 10.1016/j.optmat.2019.04.049


Publications 2018:
Publications 2017: