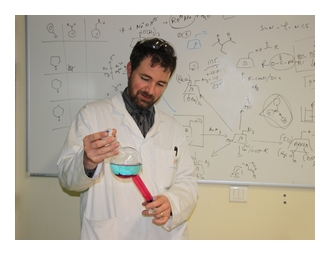 Stéphane Menuel joined the team "Supramolecular Catalysis" of UCCS-Artois in 2007. He is a young researcher now recognized for its expertise in

synthesis of modified cyclodextrins and their studies in supramolecular chemistry and in aqueous catalysis

. His current research is focused on design and characterization of supramolecular systems based on cyclodextrins for molecular recognition and biphasic catalysis. He has played a key role in the development of new supramolecular hydrogels for catalysis applications notably by the discovery of Pickering emulsion effect in the new reaction medium for the hydroformylation of very hydrophobic alkenes. His current work deals with supramolecular catalysis and unusual reaction medium for the development of Green Chemistry.
---
---
---
Année de la chimie 2018-2019 - conférence donnée le 11 octobre 2018 :
La Chimie Verte : "Influence de la chimie sur l'environnement : du constat à l'action !" - WebTV Artois
Par Stéphane Menuel
---
Publications 2021:
«Asymmetric hydrogenation of ethyl pyruvate over aqueous dispersed Pt nanoparticles stabilized by a cinchonidine-functionalized β-cyclodextrin»
S. Noël, E. Caronia, H. Bricout, I. Chena Tichá, S. Menuel, A. Ponchel, S. Tilloy, A. Galia, E. Monflier, J. Jindřich, B. Léger
Catal. Commun. 2021, 150, 106272 - doi: 10.1016/j.catcom.2020.106272


Publications 2020:
«Particle size effect in the mechanically assisted synthesis of β-cyclodextrin mesitylene sulfonate»
S. Menuel, S. Saitzek, E. Monflier, F. Hapiot
Beilstein Journal of Organic Chemistry, 2020, 16, 2598-2606 - doi: 10.3762/bjoc.16.211


Publications 2019:
«Hydrogenation of hydrophobic substrates catalyzed by gold nanoparticles embedded in Tetronic/cyclodextrin-based hydrogels»
M. Chevry, S. Menuel, B. Léger, S. Noël, E. Monflier, F. Hapiot
New. J. Chem. 2019, 43, 9865-9872 - doi: 10.1039/c8nj06081a


Publications 2018:
«Pillar[5]arenes as supramolecular hosts in aqueous biphasic rhodium-catalyzed hydroformylation of long alkyl-chain alkenes»
M. Benatmane, K. Cousin, N. Laggoune, S. Menuel, E. Monflier, P. Woisel, F. Hapiot, J. Potier
ChemCatChem, 2018, 10, 5306-5313 - doi: 10.1002/cctc.201801551


Publications 2017:
Publications 2016 :
Publications 2015:
Publications 2014: